At the beginning of this year I visited Prague, we saw some of the beatiful architecture that the city had to offer. The first piece we saw, was Charles Bridge, during the first centuries the bridge was originally called: Stone Bridge, but since 1870 has been know as Charles Bridge. It was commissioned by King Charles IV, building began in 1357. The architect in charge was Petr Parler whose other works include St Vitus Cathedral at The Prague Castle.
There are rumours that egg yolks were mixed into the mortar to strengthen the construction.
But this did not amuse me like the building mentioned in the title. The Dancing Building (Below)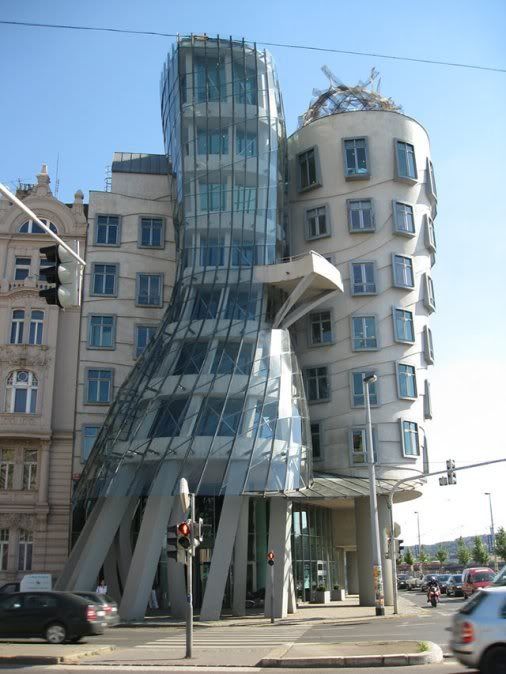 Designed by Vlado Milunic and Frank Gehry, designed in 1992 and completed in 1996. The site was a vacant riverfront plot, where the previous Neo-Renaissance building had been destroyed by the Bombing of Prague 1945.
The neighbouring house that has a small globe on the roof was co-owned by the ex-Czech president Vaclav Havel, he ordered the first architectural study of the land by Milunic. Later Dutch bank ING agreed to build a house there asked Milunic to invite a world-renowed architect to help out. The budget was near enough unlimited because ING wanted to create an iconic landmark.
The unusual shape is a fine example of deconstructivist architecture, it is meant to be reflecting a man and a woman dancing (Ginger Rogers and Fred Astair) It has been constructed from 99 concrete panels of different shapes and dimensions.
The house takes its place in Prague, as something of unique, something to talk about. Especially as the neighboring architecture is a mix of Neo-Baroque, Neo-Gothic and Art Nouveau.
The Czech President supported the design throughout hoping that it would become a centre for cultural activity. These days the building houses a French restaurant with beautiful views of the city and other tenants include multinational firms, plans for a cultural centre never materialised.